Temple Staff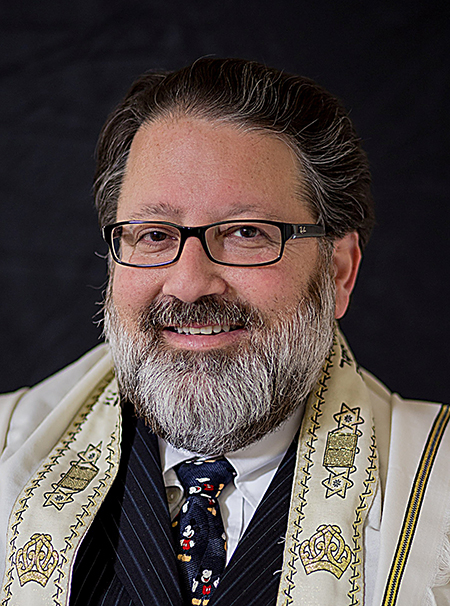 Jay Sherwood is Rabbi of Temple Shalom. Rabbi Sherwood received his Bachelor of Arts degree in Jewish Studies from the University of California at Los Angeles and received his Rabbinic Ordination and Master of Rabbinic Studies degree from the Academy for Jewish Religion, California. Rabbi Sherwood is a candidate for a Master of Arts in Jewish Education from Hebrew Union College - Jewish Institute of Religion, New York, New York.

Before coming to Temple Shalom, Rabbi Sherwood was the Rabbi at Congregation Emanu El in Redlands, California where he was responsible for all aspects of the religious, social, and educational life of the congregation as well as its' leadership and future growth. Previously, Rabbi Sherwood was the founding Rabbi and Educator of Adat Re'im, an independent, trans-denominational synagogue in Rancho Cucamonga, California, where he served for ten years.
Rabbi Sherwood's professional affiliations include membership in the Academy for Jewish Religion California Clergy and Alumni Association, Southern California Board of Rabbis, and the Sandra Caplan Community Beit Din which is endorsed by the Conservative, Reconstructionist, Reform and Trans-Denominational Rabbinic Associations.
Before entering the rabbinate, Rabbi Sherwood served as Director of Youth and Informal Educational Programming at Temple Beth Hillel in North Hollywood, California; Director of Education at Temple Beth Israel in Pomona, California; and Jewish Educator/Rabbinic Intern at Vista Del Mar Child and Family Services in Los Angeles, California. He has worked at numerous Jewish summer camps and travel programs throughout the United States and Israel. Rabbi Sherwood was also chosen to participate in the American Jewish World Service 2008 Rabbinic Students' Delegation to Ghana.
An accomplished composer and performer, Sherwood's music from CDs such as Sh'ma Koleinu and Wrapped Up In The Fringes, have been utilized at CAJE (Coalition for the Advancement in Jewish Education) and XM Radio's Radio Hanukkah. Rabbi Sherwood is also a 4th generation Ba'al T'ki'ah (Shofar Blower). He is a Life Member of the National Eagle Scout Association and a 3-time TV game show champion (Rock 'n Roll Jeopardy, Trivial Pursuit, and Don't Forget the Lyrics!).
Rabbi Sherwood, his wife, Lisa, and daughter, Ilana are building their new life in Colorado Springs since they've answered the invitation to serve Temple Shalom in July of 2017.
You may contact Rabbi Jay by email: RabbiJay@TempleShalom.com or call the office: (719) 634-5311 ext. 11.
Elayna Rathmann is Executive Director at Temple Shalom. She combines her successful business practices and knowledge of non-profit management to lead us into a successful future. She brings years of experience as a Jewish professional, lay leader and volunteer. Elayna grew up in Granger, Indiana and has a large family in the mid-west. She earned her Bachelor's Degree in Education from Indiana University, Bloomington and her Masters' degree from The University of California, Berkeley. An educator, businesswoman, and administrator, she is comfortable leading services, running programs, working on the budget and loves interacting with our members.
While military life led the Rathmann family to many locations, Elayna and Marc settled in Colorado Springs in 2003 where they have enjoyed raising their three children, Sophie, Matthew and Gabriella. They have enjoyed seeing their children grow through our religious school, B'nai Mitzvah and as youth leaders in our community.
Elayna was welcomed in 2007 as Temple Shalom's Director of Congregational Learning and Programming. Connecting her Hebrew Day School experience with her education and curriculum development background, she built a solid educational program for Temple Shalom children, youth and adults. As Executive Director, Elayna remains involved in education and programming and merges her knowledge of business and management with her understanding of Temple Shalom and its wonderful congregants. Elayna's door is always open and she is ready to welcome you!
You may contact Elayna by email: Elayna@TempleShalom.com or call her in the office at: (719) 634-5311 ext. 12
Deborah Sarna is Education Coordinator at Temple Shalom. She returned to Colorado Springs after a decade of living in Arizona. Deborah has many fond memories of teaching in Temple Shalom's preschool and religious school and calling Temple Shalom her family's spiritual home.
In her most recent role Deborah served as Director of Religious Education and Youth Coordinator for a large synagogue just outside of Scottsdale, Arizona. Her background as a professional Jewish educator spans 30+ years and is characterized by a passion for engaging individuals of all ages, capabilities and backgrounds in fulfilling Jewish experiences wherever they may be in their Jewish journey, with particular attention to the relevance of Judaism in our contemporary world. Having such deep roots here, she is excited and committed to evolving the educational programming opportunities for the Temple Shalom community by blending her experience as a professional Jewish educator with that of her background in elementary education.
Deborah shares her life with her husband Mark and is the proud mom to sons Michael and Daniel, both of whom were part of Temple Shalom's preschool and religious school programming. Aside from spending time with her family and three rambunctious dogs, Deborah enjoys supporting organizations such as Alex's Lemonade Stand Foundation and the Confetti Foundation, designing corsages, creating fun culinary creations, getting together with friends, and kick boxing.
You may contact Deborah by email: DSarna@TempleShalom.com or reach her in the office at: (719) 634-5311 ext. 13.
Wed, October 20 2021
14 Cheshvan 5782
Today's Calendar
---
Upcoming Programs & Events
---
This week's Torah portion is

Parshat Vayera
Candle Lighting
Shabbat Mevarchim
View Calendar
Update this content.
Manage your communications from Temple Shalom
Wed, October 20 2021 14 Cheshvan 5782