Temple Staff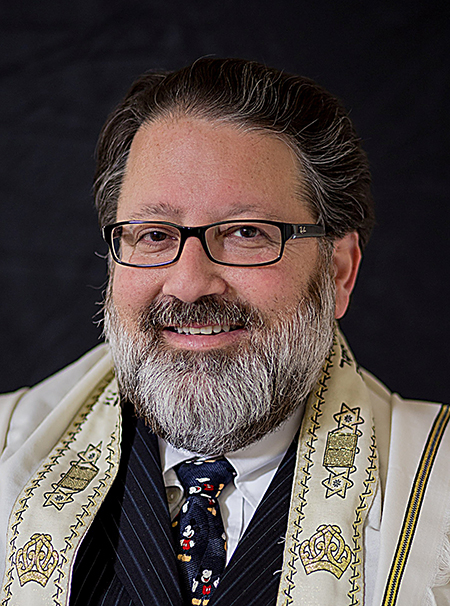 Rabbi Jay Sherwood has been the spiritual leader of Temple Shalom since July 2017. He previously served as Rabbi of Congregation Emanu El in Redlands, California, the oldest Jewish community in Southern California, and as the Founding Rabbi of Adat Re'im, in Rancho Cucamonga, California, the Inland Empire's first trans-denominational synagogue, leading that congregation for ten years.
Rabbi Jay received his Rabbinic Ordination and Master of Rabbinic Studies degree from the Academy for Jewish Religion, California, in Los Angeles. He also holds a Master of Arts in Religious Education degree from the Hebrew Union College - Jewish Institute of Religion in New York. He earned his Bachelor of Arts degree in Jewish Studies at UCLA.
Rabbi Jay currently serves on the Va'ad (Executive Board) of the Rocky Mountain Rabbis & Cantors (the Board of Rabbis for the State of Colorado). He is also involved in the greater Colorado Springs community. He is a Founding Member of the Pikes Peak Interfaith Coalition, and serves on the Executive Board of Bakhita Mountain Home, a rehabilitation home for women who are survivors of human trafficking. Rabbi Jay is the current Chair of the Pikes Peak Early College Family Engagement Council and is the past Chair of the Colorado Springs Human Relations Commission. He also writes a quarterly column on spirituality for Pike's Peak Newspapers and is an in-demand guest speaker throughout the city. He is a member of the Academy for Jewish Religion California Clergy and Alumni Association (AJRCAA), the American Society of Composers, Authors, and Publishers (ASCAP), and is a Life Member of the National Eagle Scout Association.
Before entering the rabbinate, Rabbi Jay enjoyed at twenty-plus year career in Jewish education, camping, and music. He served in educational leadership positions at Temple Beth Hillel in North Hollywood, California; Temple Beth Israel in Pomona, California; and Vista Del Mar Child and Family Services in Los Angeles, California. He has worked at numerous Jewish camps and travel programs throughout the United States and Israel, including 14 summer programs and more than 300 Jewish camp retreat weekends, and continues to serve as a visiting camp rabbi at Jewish summer camps. Rabbi Jay spent a year doing community service in Israel as part of the Otzma Jewish Service Corp and was selected to participate in the American Jewish World Service's Rabbinic Students' Delegation to Ghana.
An accomplished multi-instrumentalist, composer and performer, music from Rabbi Jay Sherwood's CDs Sh'ma Koleinu and Wrapped Up In The Fringes has been heard from the stages of CAJE (Coalition for the Advancement in Jewish Education) to SiriusXM's Radio Hanukkah. Rabbi Jay once worked on Main Street at Disneyland and claims to be the only rabbi in history to be a 3-time television game show champion (Rock 'n Roll Jeopardy, Trivial Pursuit, and Don't Forget the Lyrics!). In his spare time, he enjoys playing music, attending concerts and theatre, cooking, and traveling. Rabbi Jay and his wife Lisa are blessed with two wonderful children.
You may contact Rabbi Jay Sherwood by email: rabbijay@templeshalom.com or call the office: (719) 634-5311 ext. 11.
Elayna Rathmann is Executive Director at Temple Shalom. She combines her successful business practices and knowledge of non-profit management to lead us into a successful future. She brings years of experience as a Jewish professional, lay leader and volunteer. Elayna grew up in Indiana and has a large family in the mid-west. She earned her Bachelor's Degree in Education from Indiana University, Bloomington and her Masters' degree from The University of California, Berkeley. An educator, businesswoman, and administrator, she is comfortable leading services, running programs, working on the budget and loves interacting with our members.
While military life led the Rathmann family to many locations, Elayna & Marc settled in Colorado Springs in 2003 where they have enjoyed raising their three children, Sophie, Matthew and Gabriella. They have enjoyed seeing their children grow through our religious school, B'nai Mitzvah and as community leaders. Elayna began as a volunteer, board member and teacher in the religious school in 2003.
Elayna was welcomed in 2007 as Temple Shalom's Director of Congregational Learning and Programming. Connecting her Hebrew Day School experience with her education and curriculum development background, she built a solid educational program for Temple Shalom children, youth and adults. As Executive Director, Elayna remains involved in education and programming and merges her knowledge of business and management with her understanding of Temple Shalom operations and its wonderful congregants. This year Elayna celebrates 20 years at TS!
You may contact Elayna by email: Elayna@TempleShalom.com or call her in the office at: (719) 634-5311 ext. 12.
Marti Markus is Director of Education & Engagement
at Temple Shalom.
Marti Markus has been an active member of the synagogue for many years. Married to Dr. Maurice Markus, their three eldest children were called to the bima at Temple Shalom as bat mitzvah, and their youngest daughter is currently enrolled in third grade. Marti has been an integral PTO parent for several years and helped organize events and programs. She chaired one of our most successful Purim Carnivals in early 2020. Marti served on the Temple Shalom Board of Directors 2018-2021 and is knowledgeable about our business model, our financial position, and our wonderful congregation.
"I have a passion for education and building meaningful connections with others," Marti shared. As Director of Education and Engagement, Marti works collaboratively with the synagogue leadership and members of the Temple Shalom community to develop and implement innovative programming that engages and inspires our members. Marti holds a Master's Degree in Mass Communication and a Bachelor's Degree in Advertising from the University of Florida, Gainesville.
In sharing about her desire to have this position at Temple Shalom, Marti wrote: "I want to create experiences that make children proud to be here and proud to be Jewish. They should look back fondly on the memories made at Temple Shalom and one day share their experiences with their own children. I am confident that my passion for Jewish education and my leadership and interpersonal skills make me an excellent fit for this role."
You may contact Marti by email: Education@TempleShalom.com or reach her in the office at: (719) 634-5311 ext. 13.
Thu, September 21 2023
6 Tishrei 5784
Connect withTemple Shalom
Manage your communications from Temple Shalom
Diversity & Inclusion
ALL ARE WARMLY WELCOMED
Today's Calendar
Preschool

: 9:15am
Board of Directors Meeting

: 6:30pm
---
Upcoming Programs & Events
---
This week's Torah portion is

Parshat Ha'Azinu
Candle Lighting
Shabbat Shuva
View Calendar
Update this content.
Thu, September 21 2023 6 Tishrei 5784